Where can I see information about Assignments that have been turn...
When an instructor creates an assignment, students will be able to easily turn in their work in a variety of formats. When assignments have been turned in, instructors can see which student handed in a particular assignment, when they handed it in, and the number of submissions. Also, an instructor can make notes on an assignment that a student turned in. To see information about assignments, follow these simple steps: 

 
On the course home page, click on the icon labeled "Assignment Dropbox".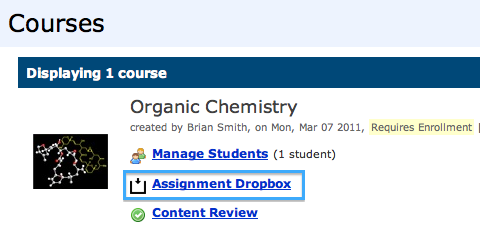 Upon clicking the icon, you will be led to a new page will display information about the assignments that have been turned in. 
In the page for  "Assignment Dropbox", you will see when assignments were due and how many have been turned in.

To see specific information, simply click on the assignment. In this case, click on "Chapter 2 Problems 2-4". 
After clicking on the link, instructors can see the names of students who have turned in the specific assignment and when they turned it in.

To make a note for students, click the link symbol beneath "Instructor Notes".
To make a note, simply fill in the box and click "Save". The student will then see your note the next time they log on.